You have to love Texas weather! You can look out of your front door and the
sun is shining then look out of your back door and it's raining cats and
armadillos! If you live in Texas, you kind of get use to it. Yesterday was
one of those days. Lots of bad weather - literally and figuratively.
I left work early yesterday to meet my husband at his urologist's office.
The sky was very dark and looked like it's going to open up at any moment
and pour down rain. We're sitting in the waiting room looking at the radar
map on our iPhones. There are tornado watches and warnings all around us.
Shortly after we are put in a room the doctor comes in to inform us that my
42 year old husband has aggressive prostate cancer (a Gleason score between
8 and 10). After finding out the news, my awesome husband had to comfort me
and dry my tears while he stood strong. His strength comes directly from
his faith in God.
Before we leave the doctor's office, Bobby already knows he wants to have
the robotic prostatectomy. He thinks it will be perfect if he can have
surgery next week since it's a bye week for my son's team. Bobby doesn't
want to miss a game. If he gets his way, he probably won't! He's not going
to let cancer or anything stop him from watching his son play! I have to
have the same attitude.
Later that evening, I met the football moms to decorate the locker room.
This week we "Leash the Leopards!" I honestly don't remember too much about it
but I did take a picture.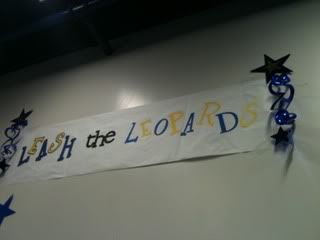 The game the next day was almost as eventful as the day before. It had been
raining all day long but stopped just before the game. The sun actually
came out. Bobby was working the chains, I was in the bleachers, and the
game has started. Next thing we know, the sky gets dark, it starts to rain,
and sirens start going off! There's a tornado or the making of one
somewhere close. The coaches, referees, cheerleaders, and players head off
to the locker rooms in the field house. I'm not too far behind them... We
spent the next 45 minutes or more in the field house listening to sirens
going off all around us. In the end, the referees canceled the freshman and
JV games and no tornadoes... at least, not close to us.
Tomorrow, Bobby goes for a bone scan and Friday he has a CT scan. Next week
is a bye week but I'll give you an update.