Last week our freshman team won their first game of the season! Go Raccoons! Yes, we are raccoons... It beats being a Skeeter!
I really didn't get to see a lot of the game because I spent most of my time swatting away bees the size of birds! Luckily no one got stung or hit by me swatting!
Decorating the locker room was a whole lot better this week! Last week was the first time we were in there to decorate... the smell was... well, just read my previous post. Julie, a football mom, brought air freshener in every form! Every locker got a fabric softener sheet, too!
Suzanne, another football mom, went to Home Depot or Lowe's and bought everyone a mask! She asked the salesperson if you could put them in the dryer. I'm sure she got a funny look but there was definitely a good reason behind it... She put the masks in her dryer with a bunch of fabric softener sheets! When we put the masks on, it was literally a breath of fresh air!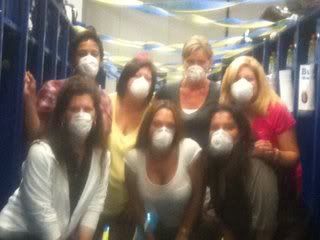 This week we are playing the bulldogs, so our theme for the week is "Bulldoze the Bulldogs!" I was able to cut my first set of letters for one of the spirit signs. Unfortunately, I didn't have enough card stock for two or more signs. Oh, I also cut out a couple of football helmets with Big Daddy (in case you don't know, Big Daddy is my Cricut Expression).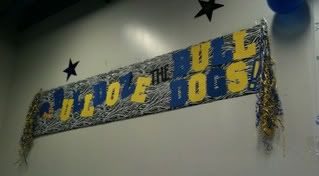 Tammy, one of the other football moms, took a plastic tablecloth she purchased from the dollar store and put the name and number of each freshman player on it. An awesome idea and I think the boys will like it!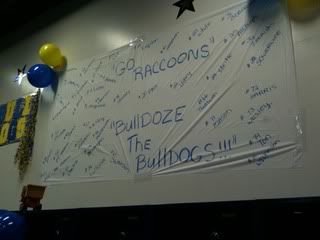 We put dog biscuits on the locker room floor, put toy bulldozers here and there, hung more streamers and balloons, and put snacks and water in the boy's lockers. I thought the dog biscuits on the floor was a nice touch!
Next week the theme will be "Leash the Leopards"!